Sweater: Volcom
Vest: Brother's closet
Pants: Kitson
Shoes: Charolette Russe
Watch: Aldo
Purse: Purse Party
So know one really knows how I was able to squeeze my tush in these pants. It's a wonder they didn't split. It's funny how everything on me has grown. I feel like I'm busting at the seams. Anyway, I figured I'd take one for the team and switch from my maternity Forever21 pants that I wear literally, every single solitary day, to a different much more uncomfortable pair.
You know what we have been loving as of late? Juicing. We've been making fresh carrot and apple juice and I can honestly say that I feel 100% better. I also think that baby is much happier judging by his punches and kicks shortly after drinking it. I have a lot more energy throughout the day. Funny how our bodies feel better with nutrients.
Who'd a thought?

Don't forget to enter the giveaway going on HERE! CUTE JEWELRY!
Now for the...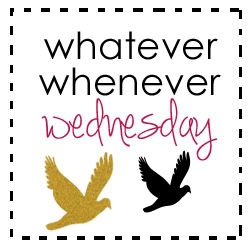 Link WHATEVER, WHENEVER up!
Just have it be a specific blog post link.
I want to see what you've created, done, eaten, made, worn, or just think is awesome enough you have to share!
Please visit a couple others who have linked up as well.
We all love some comments right?