We have come to the conclusion of our wedding posts.....
Anyway just had to share because it's kind of a big deal around here.
Finally, we are to the wedding day friends and then you'll never have to look at another dirty, rotten wedding photo of ours ever again. Hopefully :)
Check out my baby gettin down with his bad self:)
Sorry, the pictures weren't the clearest since I downloaded them from Facebook, I was just way too lazy to go round up my wedding CDs.
Getting married was the best thing to ever happen to me, though our first few days being married started out a bit rocky.
Let me explain...
The moral of the story you ask?
*Don't shove Q-Tips in your ears five times a day for months and months. Especially if you've got the BIG DAY coming up.
*Marry the sweetest guy in the entire world, so he will be abnormally patient and kind to you when you think you're doing to die. I would have not been a happy camper if it'd been reversed.
*Listen to your dad and go to instacare ASAP if your ear starts to hurt. I'm not joking. It could have all been avoided.
Being married really is the best thing that has ever happened to me. I know this saying is cliche, but Wren really is my better half. He is constantly pushing me to be better and do better. I'd be nothing without him.
Linking up to:
K, enough of the sappy stuff already, and on to the.....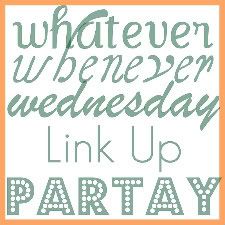 Link WHATEVER, WHENEVER up!
As long as it's cool :)
Just have it be a specific blog post link.
I want to see what you've created, done, eaten, made, worn, or just think is awesome enough you have to share!
Please visit a couple others who have linked up as well.
We all love some comments right?
Link away pretties....