Purse- Mom Gave Me
Shoes- ???
Sometime I forget that my stomach is big. And WOW, clearly this picture broadcasts it well. Every single picture we took is hideous. My sweet husband spent an hour editing them last night (he likes to feel included in my blog) and I honestly can say that not all of the editing in the world could make me look cute. Bad hair, no makeup, stomach hanging out... not a good day for me. And note to self now... wear bigger shirts Sav. You're pregnant! HA!


Speaking of my husband... Guess who got the job that they applied for last December? HIM! He got it so soon after graduating, and I am just so proud. He's smart, sexy, and just on top of everything. Who wouldn't hire him? Plus he's got like THE CUTEST butt ever in dress pants... I'm sure the ladies couldn't resist ;)
And speaking of clothing... Well my dad being the coolest guy ever, went and bought him his first pair of really nice dress shoes as a congratulatory gift, and said if you want to be taken seriously, you've gotta dress the part (if you knew my Dad it makes this statement hilarious). Anyway, these shoes have brought out a whole new Wren. I'm starting to think HE'S going to be the one posting his outfits on Wednesdays. He's been buying new dress pants, ties, belts, and shirts and dang he's been lookin snazzy. And guess what else? The first day he wore these shoes one of the higher-ups said to Wren in the elevator, "Cool shoes man." Wren immediately sent me a text to tell me. I can just picture the pleased-as-punch look on Wren's face when the guy said this to him. Wren was probably trying his hardest not to smile :)
LOVE him!

Oh and don't forget to enter the Local Giving Tree giveaway
HERE
as well! Tons of cute stuff!
Now for the...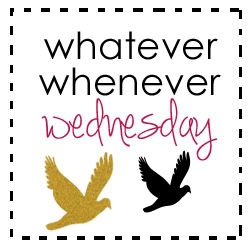 Link WHATEVER, WHENEVER up!
Just have it be a specific blog post link.
I want to see what you've created, done, eaten, made, worn, or just think is awesome enough you have to share!
Please visit a couple others who have linked up as well.
We all love some comments right?