Shirt: Gap
Pants: The Store
Shoes: Old Navy
Bump: Heaven (I had to)
Guess what guys? This cat is officially in her third trimester. I am in the home stretch and just can't wait to meet this boy! He is more active than ever right now and it makes me so excited to hold him. I think he's going to be a gymnast because it feels like he's doing cute baby somersaults all day long! He is 2 1/4 pounds and can blink the eyes that now sport some baby lashes. He is also getting fatter. Excited about that one!
The other day I had worked from sun up till sun down, trying to get everything packed and ready to go. By the time I sat down, my feet and legs were on fire. I fell asleep around 8:30pm that night. Wren and I both woke up on the couch around 1:00am and moved to our bed. Well I laid awake feeling baby roll and kick for an hour and a half and couldn't go back to sleep. Finally I dragged my butt out to the couch to relieve Wren of my restlessness. I then watched two episodes of Parenthood while baby was still rolling and kicking. At 4:00am, still not tired and foot still on fire, I somehow got the will power to slip into Wren's sweats and drive myself to 7 Eleven to buy some Tylenol. We didn't have any and it was the only possible solution I could see to the extreme leg and foot aches that I was having. Came back, took the Tylenol, and watched one more episode of Parenthood. Finally baby fell asleep (or just quit moving) and I fell asleep. I just have to say, not sleeping at night is for the birds. The next day, thinking back to that night seemed like a horrible nightmare.
Why did I share this with you? Who knows. But I'm still slightly traumatized...
Linking up with The Pleated Poppy, and Momma Go Round
PS Don't forget to enter yesterday's FUN giveaway HERE!

Now you know what time it is...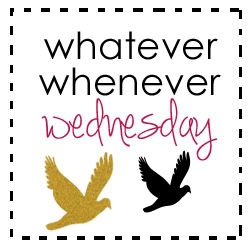 Link WHATEVER, WHENEVER up!
Just have it be a specific blog post link.
I want to see what you've created, done, eaten, made, worn, or just think is awesome enough you have to share!
Please visit a couple others who have linked up as well.
We all love some comments right?