In lieu of April being my last and final month of working here at the storage facility, we thought it fitting to take some pictures in the hallways where I've spent countless hours. I don't know if I've ever really talked about my job. It's the most glamourous of all the jobs. Let me tell you. You see, I shovel dirt, sweep hallways, pull weeds, kill black widows, clean units, man handle tumble weeds, and by the end of the day I'm just about the most tragic sight one ever did see. Dirt caked in my hair and eyes, slivers in my arms, sand in my tevas all while maintaining office hours from 9:00am to 6:00pm of collecting rent, renting units, etc. Wren walks in the office most days and says, "Wow Sav, you look hot!" There have been some days where I literally have been outside in the South Jordan wind (it's ALWAYS windy out here) doing these various chores with tears rolling down my cheeks thinking, Why me? This is so not up my alley! But you know what? It's made me a tougher chick, I can handle more now. I have been thinking about this whole having a boy thing. I know I have said how I always just assumed I'd have a girl first, but I think we are given unexpected things that we need and will help us grow. I have always been super girly. I'm always afraid of getting hurt. But like the work here, I think having a boy will also toughen me up. I think me and my little guy will go on many outdoor adventures with Wren and do many more daring things than we would have had we had a girl. I think it will help Wren and I to grow closer because we will do all of the things he loves to do with our babe. Because Wren's a boy. And we're having a boy. Get it? A boy!? Who would have thought? But I couldn't be happier. I just love him so so much, I can't even explain. He's going to be pretty important. Only about three more months to go. This pregnancy is flying!
Maybe this is TMI, but right now at 26 weeks, his little baby boy parts will be dropping and I just think it's like the cutest thing ever.
Yes, I will be that mom.

Now you know what time it is...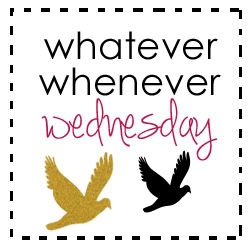 Link WHATEVER, WHENEVER up!
Just have it be a specific blog post link.
I want to see what you've created, done, eaten, made, worn, or just think is awesome enough you have to share!
Please visit a couple others who have linked up as well.
We all love some comments right?