25 Weeks
Shirt: Walmart, yep that's right
Skirt: ASOS Maternity (Heavenly)
I thought I was being slick when I hid my bangs under my headband today, but it backfired when the wind blew my bangs over the headband. Woops.
Wren told me the other day that when he was little, one Valentines Day he brought a Valentines box to school that had a basketball hoop and a sign that read, "Score with Wren". And then he proceeded to print off 30 Valentines for his class members that said, "I'll score you a Valentine". I just can't stop laughing about it. What a riskaaay little one he was. I wonder if any girls got lucky that year? ;)
I hope our little boy does funny stuff like that.
Oh and thank you, thank you, THANK YOU for all the sweet comments yesterday on our
house post
.
You guys are seriously THE BEST!

Now you know what time it is...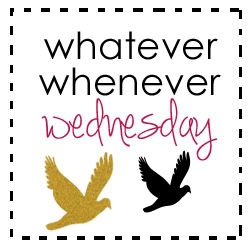 Link WHATEVER, WHENEVER up!
Just have it be a specific blog post link.
I want to see what you've created, done, eaten, made, worn, or just think is awesome enough you have to share!
Please visit a couple others who have linked up as well.
We all love some comments right?